Welcome to Gaugetable Information Desk
CONTENTS
About Gaugetable.
How to Use Gaugetable.
Bookmarking Gaugetable to your own Computer.
About Gaugetable
Gaugetable is a database and retrieval system of Gauge Tables for Tank Railcars. This allows users of Gauge Table (i.e. Loading/Unloading facilities, Fleet Managers, Equipment Lessors, Etc.) a fast and simple method to aquire tables for their use. Each Table request can be directed to multiple e-mail addresses, fax machines or a combination of both.

For each tank car, Gauge Tables may be available in two different formats, Innage and Outage. Typically each tank railcar has only one type of table, either an Innage or an Outage Table. In the case where there is only one choice, your default selection will be the table provided.

An innage Table measures the volume of liquid remaining in the railcar, while an Outage Table measures the volume of liquid removed from the railcar.

Each new user of Gaugetable is required to fill out and submit a User Information Form. This simple one-time process will help us continue providing this service to the users of Gauge Tables free of charge.

If you wish to post your gauge tables to this service, please select "Post Your Table" and fully complete the form provided. Click on Submit and a representative of Gaugetable will contact you by telephone.

You may print this information page and instructions by clicking on the printer icon on your browser.


How To Use Gaugetable
Simply put you can get any Innage and Outage Table for any railcar in our database. To use Gaugetable you simply fill out the boxes on the center of the Homepage.
In the top right box you enter the car number you wish a Gauge Table for.
Then on the second line you click on the button to choose innage or outage for the type of table you would like for the railcar you are requesting.
(NOTE) Railcars with multiple tables will default to table requested only.
Railcars with only one table available will default to the only available table no matter which table is requested.
Click on Submit.
For more than one Railcar at a time, repeat procedure (1-3) for each railcar.
Bookmarking Gaugetable to your Computer
To make it easier and faster to access Gaugetable, you should bookmark it on your computer. This is an easy process to make sure you can get back to our site at a future time without having to remember the domain name. For ease of reference we will assume Netscape Navigator as your Internet Browser.

To make a bookmark:
First you want to be at the "Gaugetable Home Page" or "Index Page". At the Top of the screen is where the title of the page is located. Under the title bar, the second line represents the commands menu bar.
On the commands menu bar, the Fifth command over is "Bookmarks". Click on "Bookmarks" to open its menu.
The first line on the menu will be "Add Bookmarks". Click on "Add Bookmarks", this will automatically put the gaugetable in your bookmarks.
To retrive your saved bookmark you can access by the following method:
First, click on the "Bookmarks" command on the command bar and look for Gaugetable Homepage.
Click on Gaugetable Homepage and your browser should load up Gaugetable homepage.
If you have other bookmarks you may have to click on "more Bookmarks" before finding "Gaugetable Homepage". (Note: You must be connected to the internet with your internet provider for any of the above sequences to work. Also you can bookmark other sites and pages using this same method.)

For other browsers:

AOL
Look for favorite places in America On Line (AOL) and Click on the appropriate symbol for saving to "favorite places". To retrieve click on "favorite places" and look for "Gaugetable Homepage". Click on "Gaugetable Homepage" and the browser section should load up and search for Gaugetable Homepage".

<!-MSN: To save a bookmark here click...>
You may print this entire page and instructions at any time by simply clicking on the printer icon on your browser.

If you still can't Bookmark the home page please feel free to contact us for help by clicking here for help and type on the large screen the type of browser you have and what kind of problem you are experiencing. Do not forget to put a title on the subject bar line and of course, push the send button to send the E-Mail to us.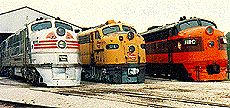 Back to Home Page
---
This Page Sponsored by TransMatrix
Comments should be sent to Gaugetable
© Copyright 2002 Gaugetable
Created for Gaugetable by Genematrix, Inc.